STRIPS 1

SugarBuzz!

"SUGAR BUZZ: LIVE AT BUDOKAN! is literally impossible to really describe. The book is full of a variety of strips and oddball characters, including Pants Ant, a super-heroic ant with human-sized robotic pants, Urbane Gorilla (has to be seen to be believed), the Holiday Heroes (a super-hero group composed of Santa, the Easter Bunny, etc.) and the ultra-groovy space adventurers known as the Ultra Spacers. The entire book is heavily influenced by the whacked-out style of Hanna-Barbera cartoons, and Carney and Phoenix have an ability with the ridiculous that is hard to beat. The book is damned odd, but there are laughs on just about every page, and if one feature doesn't work for you, the next one is bound to grab you more. It's sort of what you might get if Laugh-In had been a cartoon aimed at adults, executive produced by Grant Morrison. Phoenix's artwork is especially impressive, as he varies his style in each piece, but always has clean linework and detail."
–Randy Lander, Monitor Duty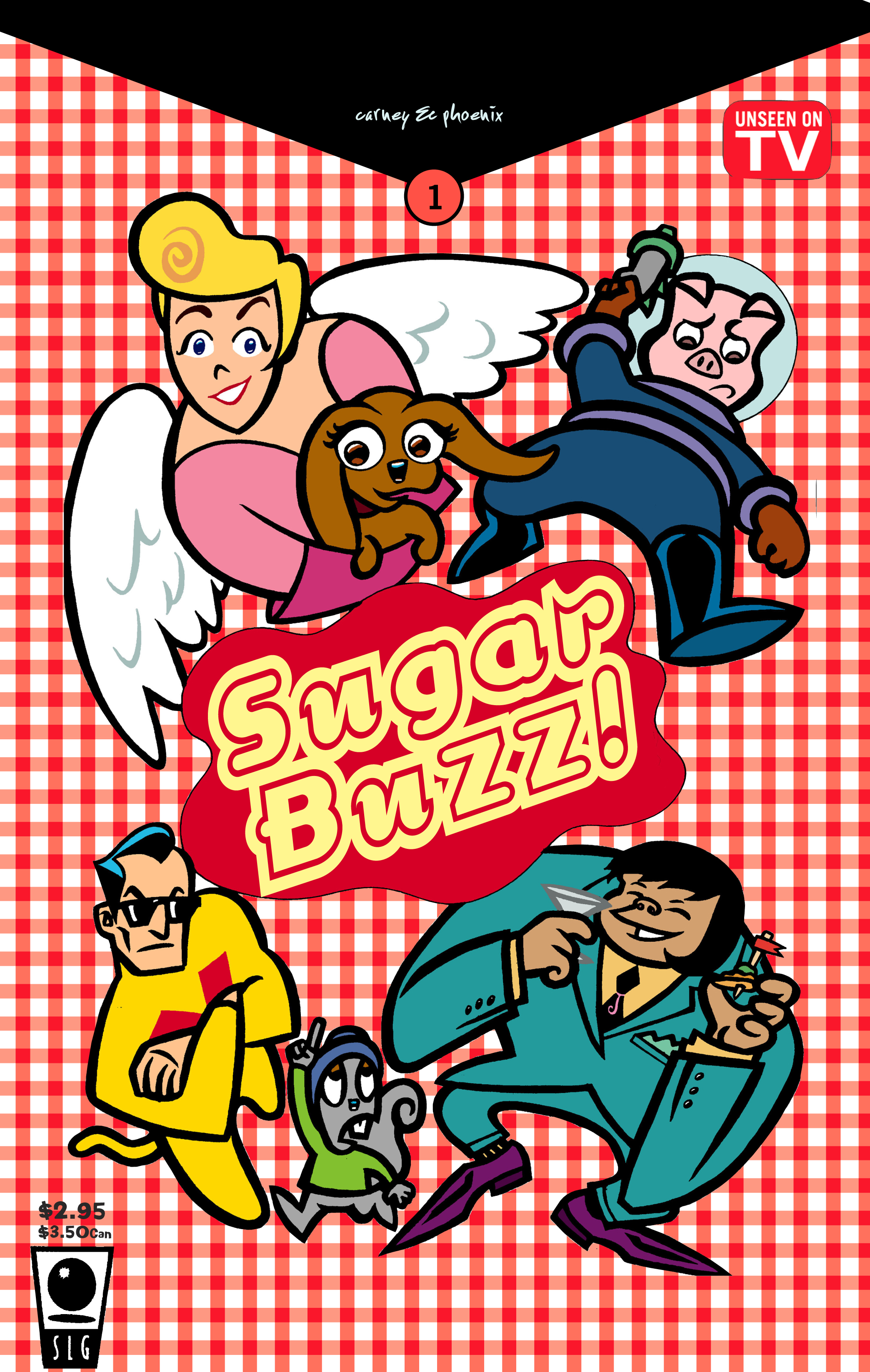 Ian Carney and I were both writing – and in my case, also drawing – comics featuring licensed characters for multi-national corporations when we met at a comics convention and realised we had a terrifying amount in common. We began SugarBuzz! an intense collaborative anthology riffing on our childhood obsessions with Saturday Morning cartoons, published by SLG in the US, Comédie illustrée in France and Slab-O-Concrete in the UK. The reviews were stellar, Eager Beaver got written about in a national Sunday newspaper, and our characters came to the attention of various animation companies. "Where's it at, Sugar Kat?" was optioned by Walt Disney and spent years in development as a stop-motion animation and then a live action TV series. We made a pilot for a Pants Ant show with Cartoon Network.



Long story short, none of the television pilots worked out. We turned our attention to other things, Ian became an award-winning animation writer full time and our SugarBuzz! universe went into hibernation. Eager Beaver, the original SugarBuzz! comics and the six book collections SugarBuzz! Live at Budokan; Sugar Kat: The Thin of the Land; The Pants Ant Trouser Hour; Multi Vitaminé!; Orange Pressée; and SugarBuzz: Your Ticket to Happiness! are all out of print.

Recently, we decided it was time to revive our collaboration. Revised, remixed and full colour versions of our previous books are in the works. Plus some all-new stories. We'll let you know when they're ready.