BOOKS 03

She Lives

A wordless graphic novel, in an edition of one. A 96-page hardcover Artist's Book. One metre square. Designed, collated, cut, stitched, glued, covered and bound by hand, the story painted directly onto the pages in india ink.
SHE LIVES can only be viewed and read as a group experience, live, in controlled conditions. Think of it as a mobile, narrative installation. It was first exhibited at the British Library in 2014 for three months and has since toured universities and galleries around the UK, with an extended 10-month residency at the London Cartoon Museum.



SHE LIVES was featured in the 2021 BBC Television series Art That Made Us, episode one, 'Lights in the Darkness':

"Graphic novelist Woodrow Phoenix explores how the Anglo-Saxon age came to a dramatic end in 1066 by taking a fresh look at the embroidered propaganda of the Norman conquest in the Bayeux Tapestry." (Yes, it's a size thing.)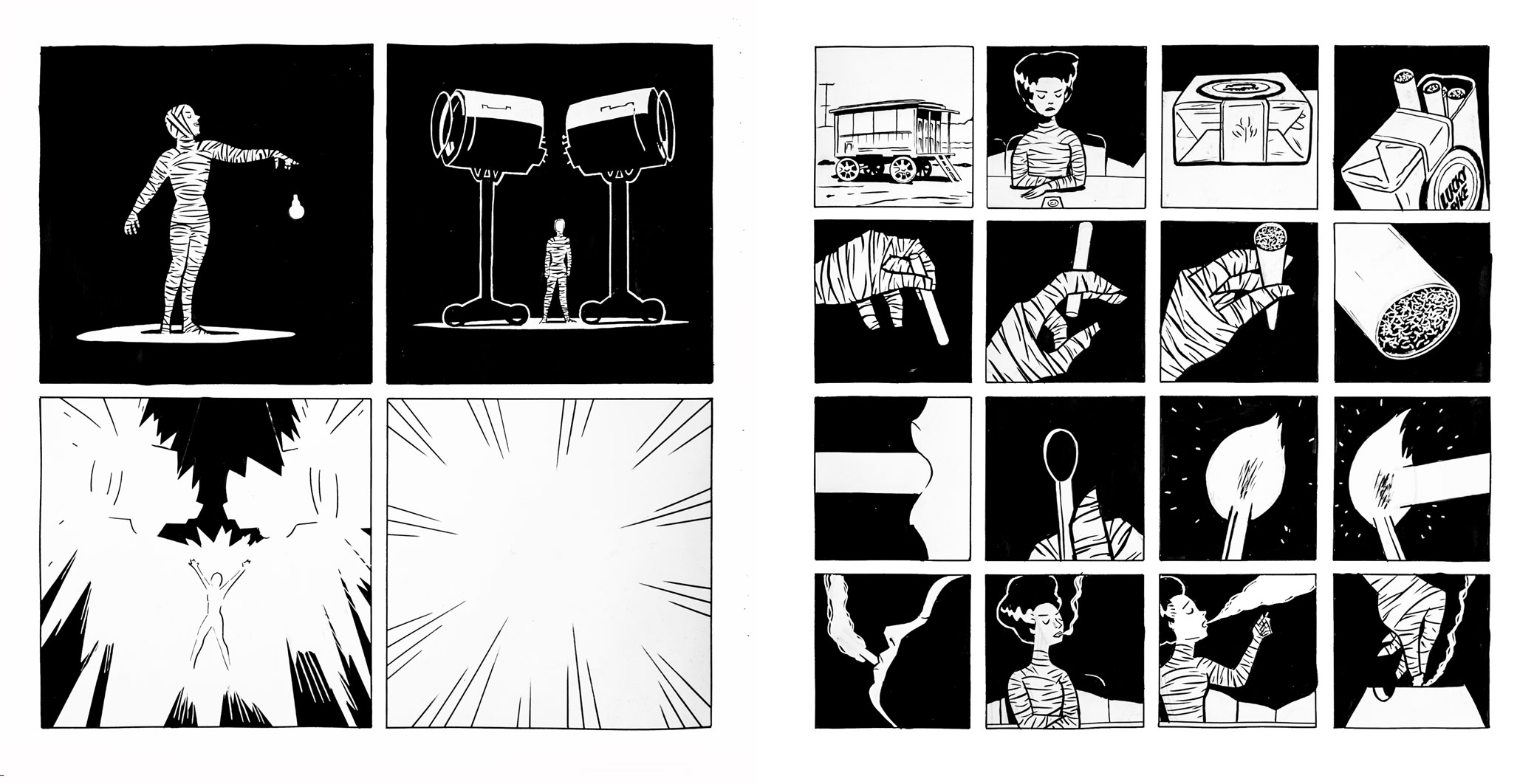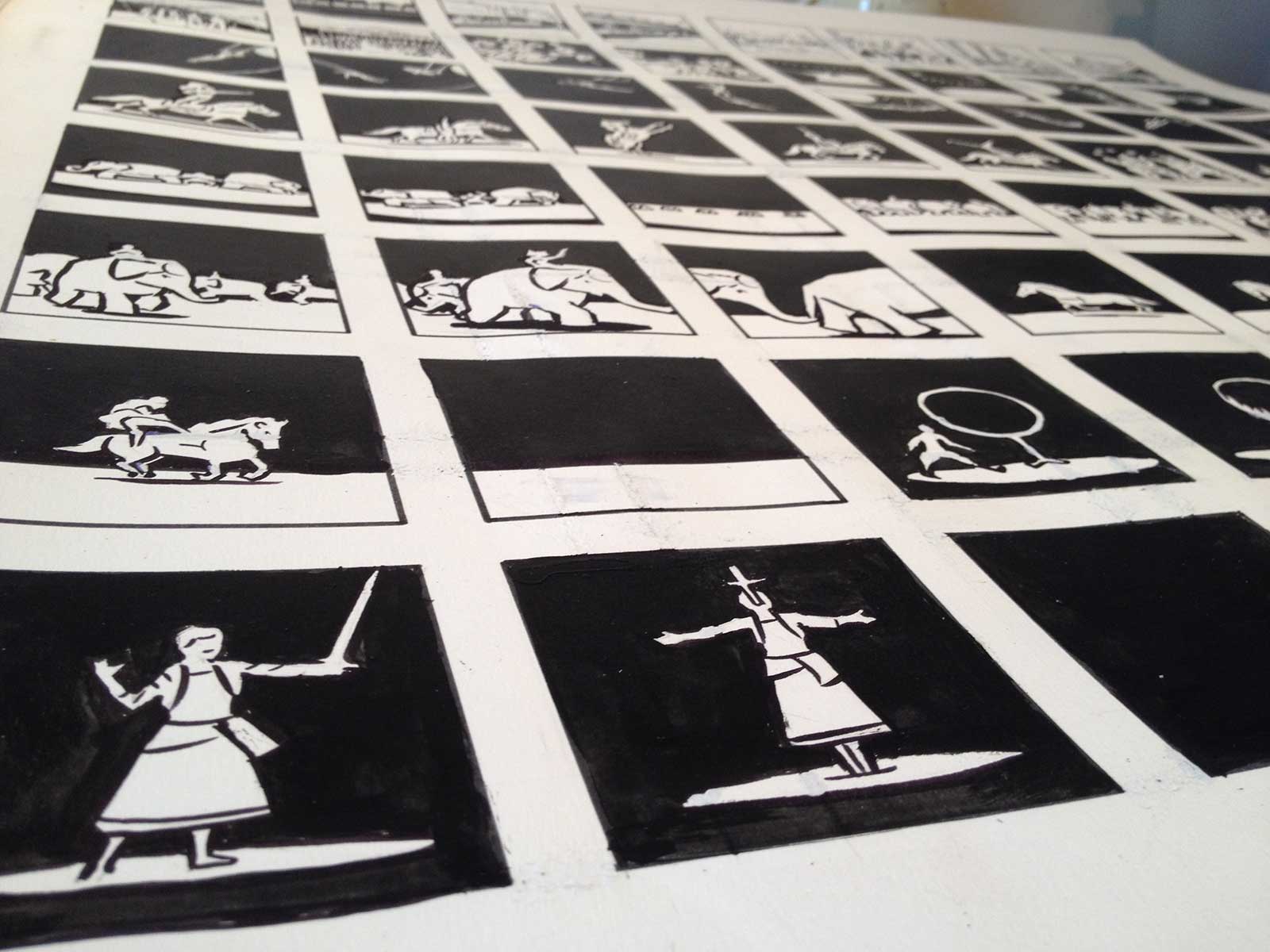 Dummy #2, test images; Bound book, pages 34-35, 70, 73.
Sennelier a la Pagode India ink, pencil and white gouache on 250gsm Fabriano paper.
How do you read a wordless comic strip?

California, USA. 1946. Voltara, the Mistress of Electricity is the star attraction of a touring circus. She is as mysterious to her cohorts as she is to the audience: never speaking, rarely leaving her trailer, never seeming to sleep or eat.

Who is she? Where did she come from? What is the source of her powers? What does she do, alone in her trailer all day and night?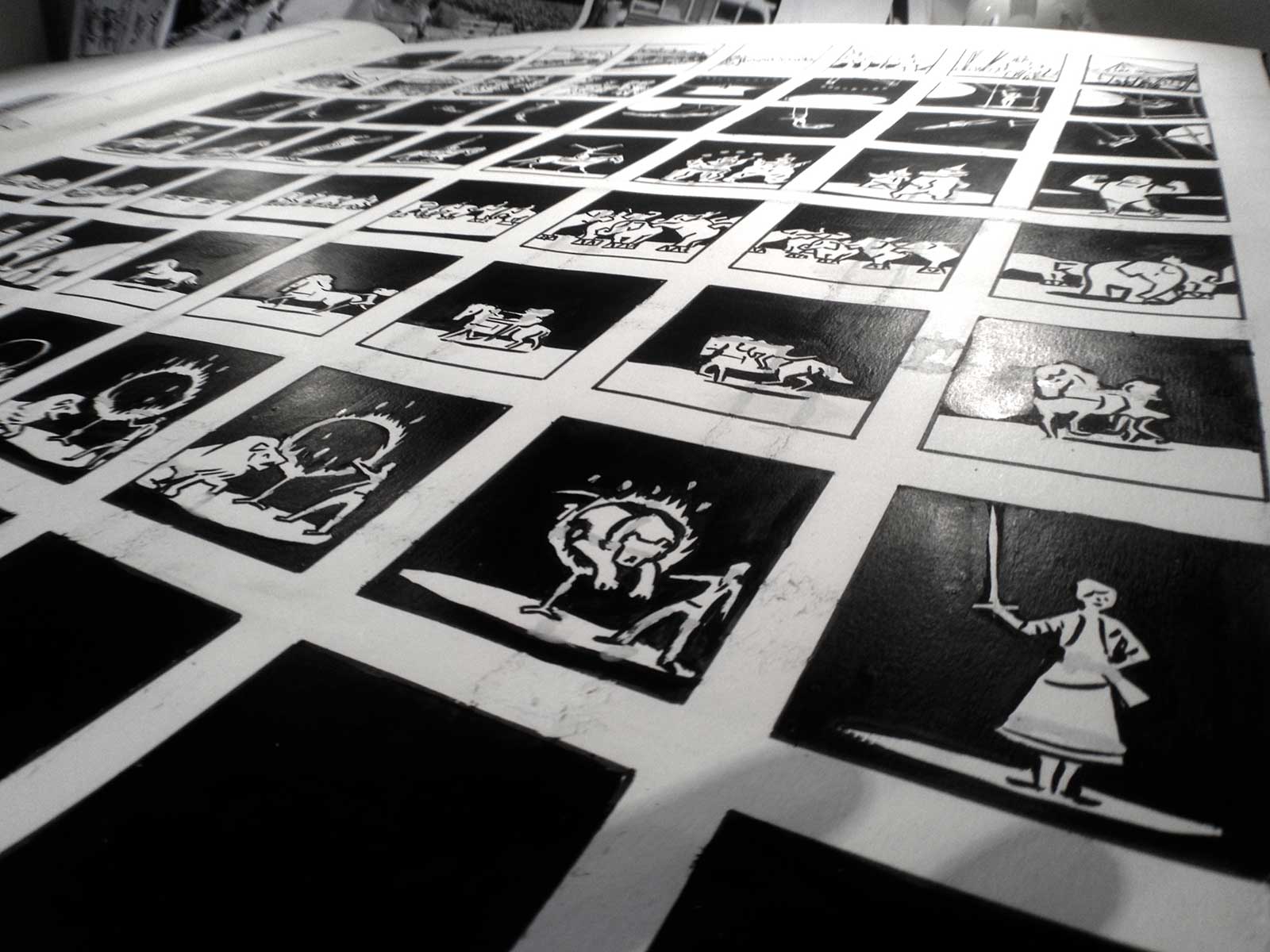 A test at solving the problem of reader attention, in the form of a giant-sized graphic novel.
She Lives
was an experiment in presentation. Wordless comics can be difficult for readers; without words to control the pace of reading, they can race through a book without really seeing it. How do you make people slow down and look more carefully at the images so they aren't missing important or relevant information?
Making REALLY BIG images was my solution. A book so large that when opened, its two-metre span completely occupies the viewer's visual field. The pages are impossible to skip over quickly, so you have to pay attention. From three dummy books in different shapes – landscape, portrait, square – I chose a square. The symmetrical grid frames the images in a formal arrangement that heightens the sequences.
The giant surface also allowed me some extreme layout possibilities, to vary the pacing of the narrative from very small panels to an immense double-page image for maximum impact. During production I changed my idea about printing this book and instead created this completely handmade art object, which then needed a person to present it to an audience of reader/viewers.
When people encounter
She Lives
as a group, and experience the story collectively, their responses are very different than reading a book by themselves. It becomes an event, like theatre. Or a Punch and Judy show.
It's a fascinating privilege to observe people interacting with the narrative directly; their reactions to the large images alternating with much smaller ones, following the layouts together, demonstrating that the storytelling works as I had intended. It was a successful experiment. It also creates a new kind of comics-reading experience, asserting the physicality of ink, paper and personal interaction over mass printing and routine consumption.
Much of what
She Lives
does is not transferable to standard comics-making, but it answered the basic question of whether wordless comics can be as involving as regular ones.

If you are curating a show, a conference or an exhibition and are interested in displaying She Lives, contact me.