BOOKS 04

Felt Mistress: Creature Couture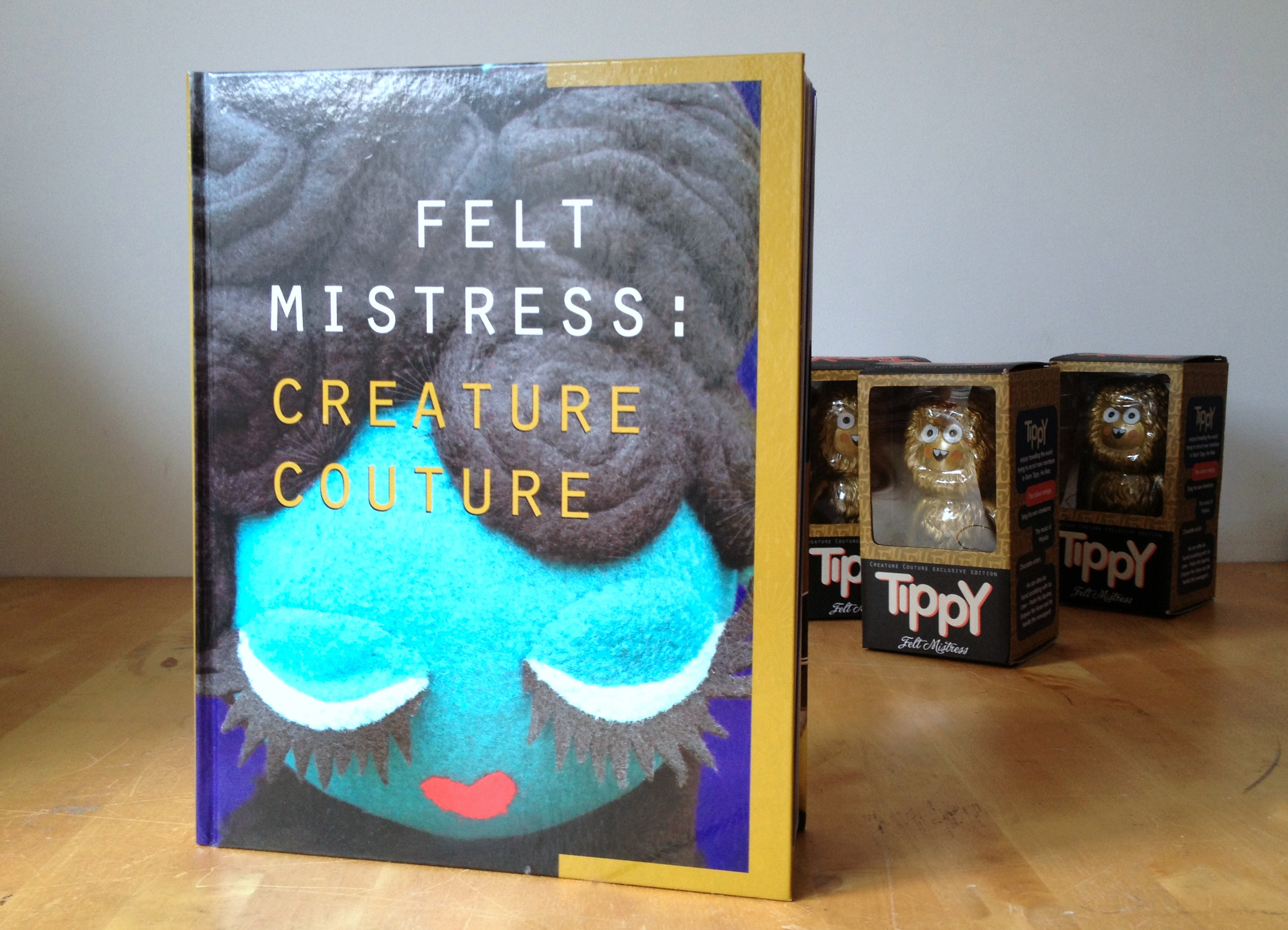 LOUISE EVANS, a formally-trained couturier, gave up designing and producing intricate, bespoke wedding dresses to work collaboratively with artists and designers but mainly with her partner, illustrator and toy designer Jonathan Edwards, slowly becoming the unique creative force they are separately and together.

Collectors of designer vinyl or hand-made plush toys, anyone familiar with the 'reduced figuration' scene championed by German group Pictoplasma or just into contemporary character design and urban art generally, knows the work of FELT MISTRESS.

Her range of activity includes: shop window displays for Oxford Street's prestigious department store Selfridges and edgy Shoreditch fashion house Start London, featuring original characters such as Demetri the pipe-smoking Yeti, four-horned catwalk supermodel Elspeth Frond, one-eyed modettes and a literal legion of felt beasts called Kaiju.

Her reimaginings of such fan favourites as Marceline from Adventure Time, Floyd from the Muppet Show, and felt homages to The Beatles, are snapped up by collectors faster than you can say 'limited edition', as are her collaborations with artists Gruff Rhys, Pete Fowler, Jon Burgerman and worldwide brands such as Coca-Cola.



Felt Mistress: Creature Couture is the first book to document over 15 years of her intense creative output. After considering offers from publishers, Louise went with Blank Slate and requested me to compile and edit a book about her work because she loved Plastic Culture. I ended up planning, writing, editing, photographing, interviewing, designing and producing the end result.

FM:CC is an encyclopaedic A4-sized, 400-page doorstop packed with over 1,650 photographs, previously unseen drawings of Jonathan Edwards' original design ideas, details of every Felt Mistress collaboration with other artists and more. There are in-depth interviews with Jon Burgerman, Pete Fowler, Ben Newman, John Knox, Nobrow and others. Two extensive conversations with Louise and Jonathan about their work together are topped off with a comprehensive index listing every creature, every guest appearance and every show.

We also teamed up with Jonathan and Japanese toy producers CRAZYLABEL to create a very special vinyl figure of Felt Mistress' mildly demonic familiar, Tippy Winkles. Brrrr. Tippy came in two colourways. Golden Tippy was only available bundled with Creature Couture.


Felt Mistress: Creature Couture is published by Blank Slate Books. The vinyl Tippys are all gone now but you can buy signed copies of FM:CC, personalised with a sketch from Jonathan Edwards, direct from Felt Mistress herself.