BOOKS 01–02

Crash Course and
Rumble Strip

CRASH COURSE is a 208-page graphic investigation of the powerful and often toxic relationship between people and cars. It's part thought experiment, part testimonial and part indictment of dysfunctional transit environments which put convenience for drivers ahead of logic, natural resources and even ahead of human life.

Crash Course questions the decisions that shape all our lives. Why don't our roads serve everyone who needs to use them? What makes some people not worth protecting? Where do we start in fixing a broken system that facilitates the use of vehicles as weapons of mass murder in places like Charlottesville, VA.?
It's published in the USA by Street Noise Books.



CRASH COURSE is a rewritten version of RUMBLE STRIP (read about Rumble Strip just below this): almost half the original 180 pages are gone, much of the remainder has been tweaked/updated and there are 105 new pages dealing with the situation for roadusers in the United States. This makes it possibly a grimmer book than the original: more pages! More deaths! But if we don't face the facts we can't change them. I am hopeful we can.

Crash Course is a US title, exclusively licensed to Street Noise Books and therefore not on sale in the UK.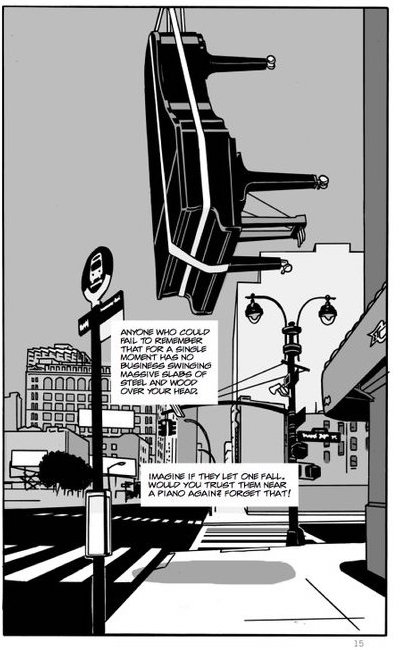 Here is a very thoughtful review by Tim Hayes in The Comics Journal.

You can listen to an interview with me discussing Crash Course in detail with host Doug Gordon on The War on Cars podcast.

You can also hear me in conversation with Gil Roth on the Virtual Memories Show, a podcast where we talk about Crash Course and a few other things.




RUMBLE STRIP was published in 2008. In 188 pages it explores how and why people drive the way they do, and asks some questions about what makes our relationship with cars so deadly. It was six months of living and driving in car-centric Los Angeles that led to my creating this book, although it focuses mostly on driving in the UK, with some reference to similar conditions in the US and Europe.

Rumble Strip (and, by extension, Crash Course) uses an experimental narrative technique which removes all people from the images and instead induces the reader to project themselves into the picture plane directly. It turns out to be a very powerful way to deliver this information. It works especially well with people who do not usually read comics.



Rumble Strip was reviewed in The Times by Neel Mukherjee as "an alarm bell, a long, hypnotic visual poem and a rigorous argument all rolled into one utterly original work of genius. It should be made mandatory reading for everyone, everywhere."



Rumble Strip is published by Myriad Editions. There are Brazilian and French versions, both tailored to their specific locations. If you are interested in a translated edition of Rumble Strip for your country, contact Myriad.



You can listen to me discussing Rumble Strip and other creative issues with Dan Berry on his podcast, Make It Then Tell Everybody.